SQUARE Window Gallery
HOME > SQUARE Window Gallery > event > Square > "Festival of Gorgeous Kimono" by Kyoto Tegaki Yuzen Kyodokumiai
Exhibition details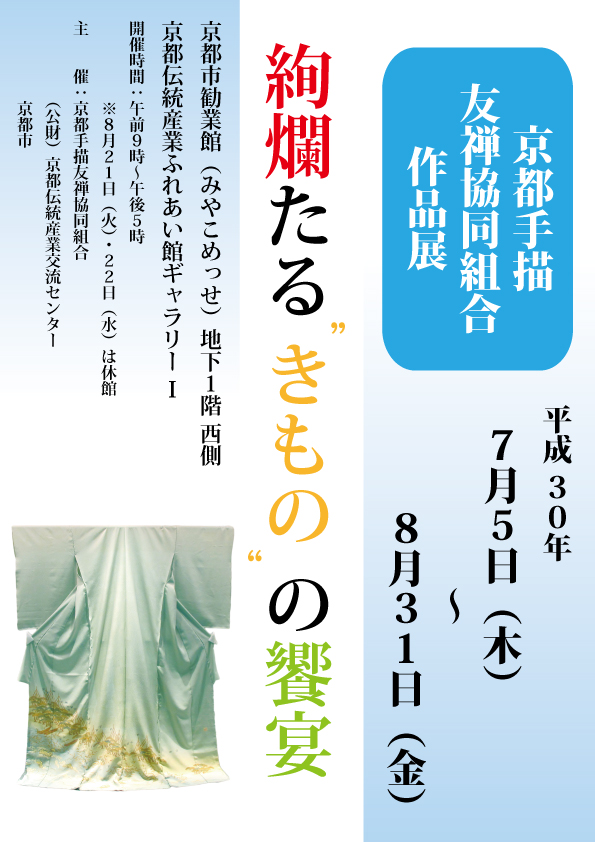 "Festival of Gorgeous Kimono" by Kyoto Tegaki Yuzen Kyodokumiai
Kyo Yuzen is famous for dyeing techniques that create various coloful patterns and designs on Kimono fabric. A hand-paint Kyo Yuzen technique is the oldest technique among other Kyo Yuzen tecchniques. First process is to paint a preliminary sketch. Next, applying glue resistant to the outline of the design with a cylinder. Finally dyeing with hand-painting in multicolors.
Miyazaki Yuzensai developped Kyo Yuzen in the late 1700s in Kyoto. Kyo Yuzen is one of the most established and representative traditional industries in Kyoto.
This exhibition introduces mainly Kimono items and they are scheduled to be replaced in every two weeks.
We hope guests to enjoy gorgeous Kimonos in Kyo Yuzen as well as amazing skills and inspirations of craftmen who made those works possible.
Date
~
Closing Dates
8/21(Tue), 8/22 (Wed)
Place
Gallery Ⅰat Kyoto Museum of Traditional Crafts, Fureaikan
(Miyakomesse BF1, West Side)
Contents
About 10 Kyo Yuzen (hand-paint) items such as Kimonos and Obibelts.
(Items are scheduled to be replaced in every 2 weeks)
Admission
Free
Hosts
Kyoto Tegaki Yuzen Kyodokumiai, Kyoto Traditional Industries Foundation, Kyoto City
Scheduled exhibitions
Currently there are no scheduled exhibitions.
Past exhibitions