PERMANENT EXHIBITION
About permanent exhibition
The museum welcomes you with its machiya-style entrance and inner garden, so characteristic of Kyoto atmosphere.. Enter the world of traditional crafts.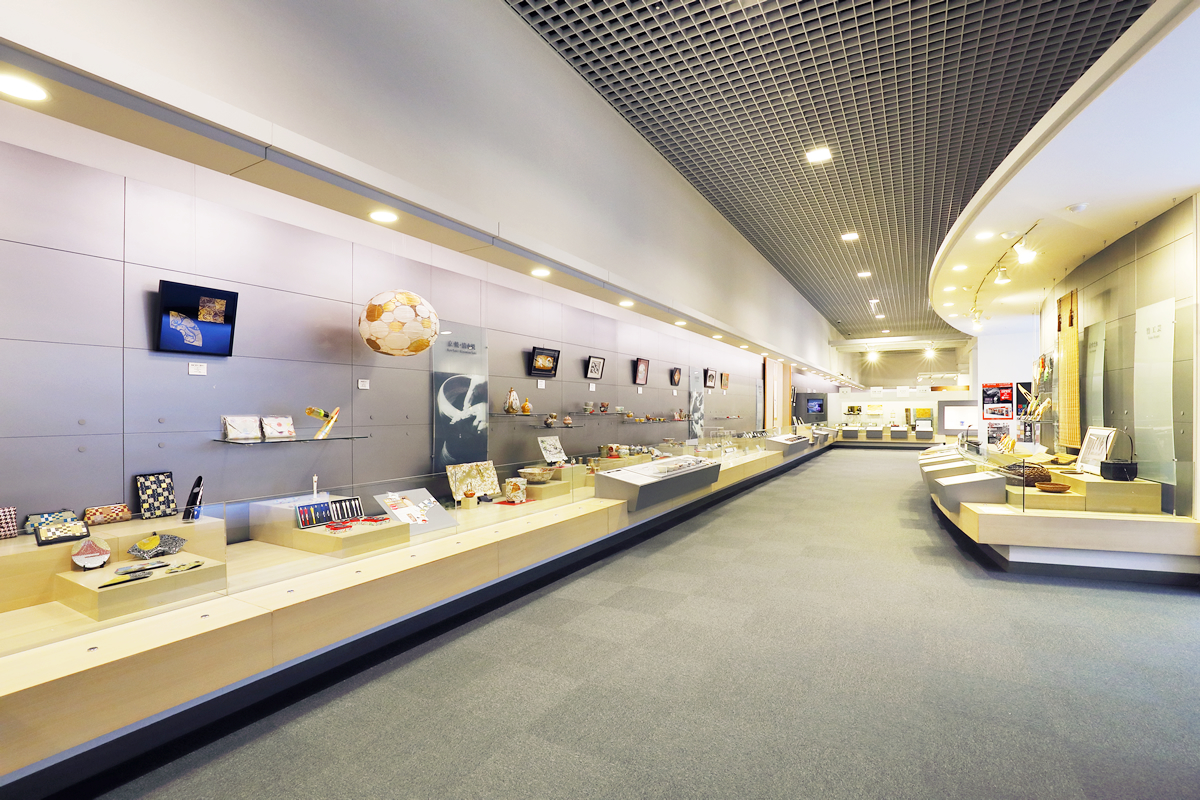 Traditional crafts are the essence of Kyoto history and culture, and FUREAIKAN is the only place where all of them can be discovered at once — permanent exhibition brings together all the 74 categories of Kyoto traditional industries. Crafts and their techniques are introduced and explained one by one through 500 artifacts, panel displays and videos.. A craft lovers' paradise!
Craft items with price tag are on sale. Please let us know if something pleases your eye!
School visits & guided tour reservations
About school visits & guided tour reservations
We are accepting applications by FAX.
After filling out the following application form, please send it by FAX 2 weeks before the day of your visit.
(FAX:+81-75-762-2671)
Multilingual guides
Items on display are introduced one by one by explanatory panels in Japanese and English.
We also provide booklets with numbered explanations of displayed craftworks in French and Chinese (traditional and simplified). Feel free to borrow them at the entrance of Fureaikan and use them in the permanent exhibition hall.
※ The digital version of the booklets is also available for the smartphone and tablet device users :
Feel free to use our voice guidance application (available in Japanese and English).
Kyoto traditional crafts
Gaku-kanban (wooden signs), Kyo-ishi-kogeihin (Kyoto stone crafts), Kyo-gawara (Kyoto roof tiles), zoen (landscape gardening), Kyo-yuzen (Kyoto yuzen dyeing), Kyo-komon (Kyoto komon dyeing), Kyo-kanoko-shibori (Kyoto tie-dyeing), Kyo-kuromontsuki-zome (Kyoto kuromontsuki-zome dyeing), Kyo-fusahimo・yorihimo (Kyoto twisted cords with tassels), Kyo-kumihimo (Kyoto braided cords), Nishijin-ori (Nishijin woven textiles), Kyo-nui (Kyoto embroidery), Kyo-tabi (Kyoto tabi socks), Kyo-fukuromono (Kyoto bags and pouches), hanakanzashi (ornamental hairpins), katsura (wigs for actors and actresses), Kyo-tsugegushi (Kyoto boxwood combs), Kitayama-maruta (Kitayama cedar logs), Kyo-meichiku (Kyoto bamboo), Kyo-wagasa (Kyoto umbrellas), chochin (paper lanterns), Kyo-tsuzura (Kyoto lacquered bamboo boxes), kiseru (tobacco pipes), Sagamen (Saga masks), Fushimi ningyo (Fushimi dolls), take-kogei (bamboo crafts), Kyo-sudare (Kyoto bamboo blinds), Kyo-sensu (Kyoto folding fans), Kyo-uchiwa (Kyoto round fans), Kyo-maru-uchiwa (Kyomaru fans), Kyo-to-ningyo (Kyoto pottery dolls), Kyo-ningyo (Kyoto dolls), Kyo-yaki・Kiyomizu-yaki (Kyoto pottery), Kyo-shikki (Kyoto lacquerware), Kyo-tatami (Kyoto tatami mats), Kyo-hyogu (Kyoto mountings), Kyo-hanga (Kyoto woodblock prints), Kyo-no-shikishi-tanzaku-wahoncho (Kyoto shikishi, tanzaku and wahoncho paper), karuta (playing cards), karakami (paper for sliding doors), Kyo-insho (inkoku) (Kyoto seals), chazutsu (tea caddies), Kyo-koma (Kyoto spinning tops), yuino-kazari・mizuhiki-kogei (engagement decorations and paper cord crafts), kogei-gashi (craft confectionery), kashi-kigata (confectionery molds), seishu (sake), Kyo-hamono (Kyoto cutlery), kanaami-zaiku (wire netting crafts), hanpusei kaban (canvas bags), Kyo-gashi (Kyoto confectionery), Kyo-ryori (Kyoto cuisine), Kyo-tsukemono (Kyoto pickles), Kyoto-no-kinzoku-kogeihin (Kyoto metal crafts), Kyo-shippo (Kyoto cloisonné), Kyo-zougan (Inlays), kirikane (gold leaf work), dento kenchiku (traditional architecture), Kyo-sashimono (Kyoto woodwork), Kyo-sanadahimo (Kyoto sanadahimo cords), juzu (Buddhist rosaries), nenju-tama (Buddhist rosary beads), Kyo-butsudan (Kyoto Buddhist household altars), Kyo-butsugu (Kyoto Buddhist paraphernalia), warosoku (Japanese candles), kunko (incense), nomen (Noh masks), shirabeo (linen tuning ropes), shakuhachi (bamboo flute), shamisen (3-stringed Japanese lute), hogakki-ito (strings for Japanese musical instruments), Kyo-yumi (Kyoto bows), ya (arrows), Kyo-no-jingi-shozoku-chodohin (Kyoto Shinto crafts)