Special Exhibition
HOME > 【postponed】Special Exhibition 「In between crafts」
Special Exhibition details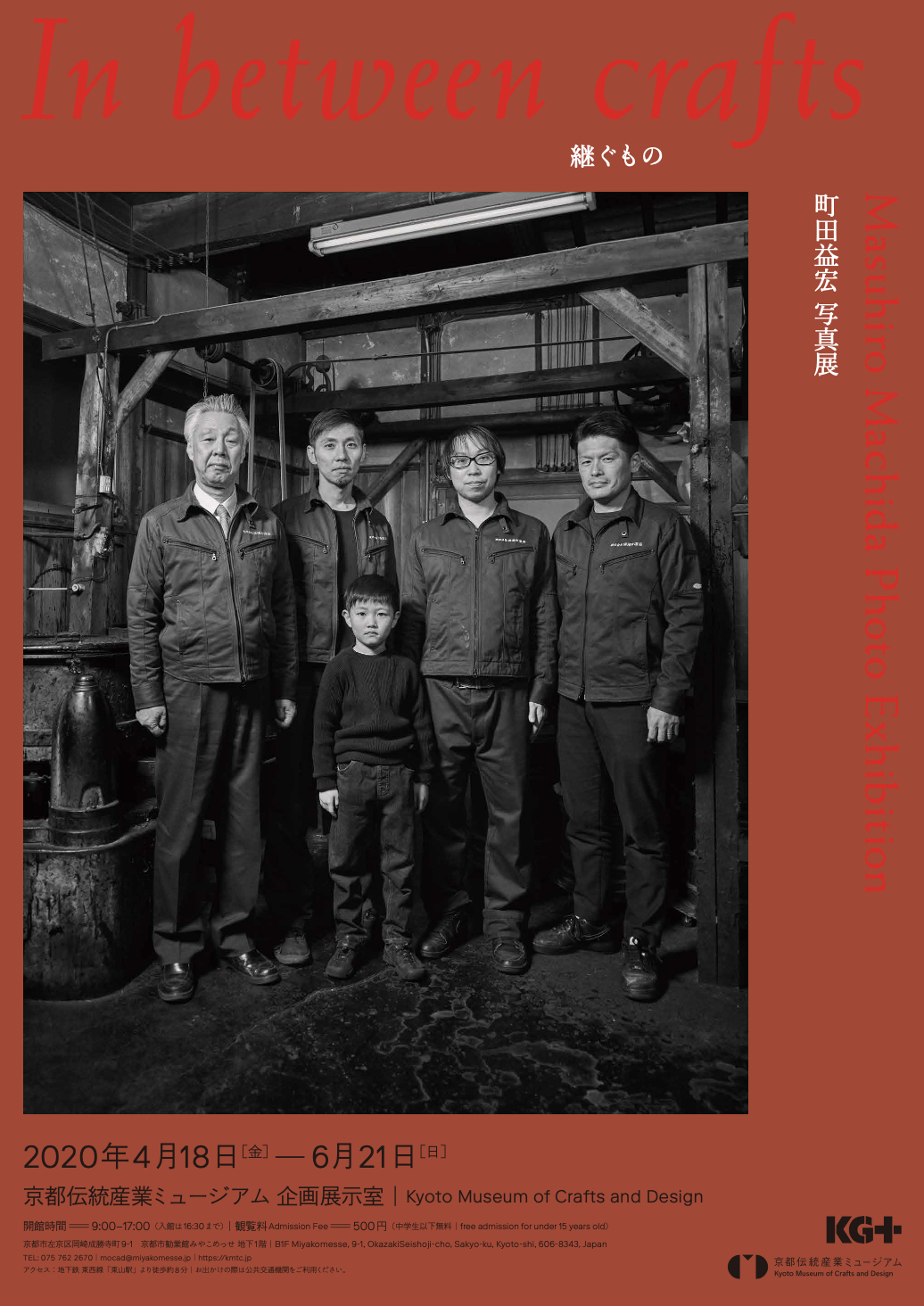 【postponed】Special Exhibition 「In between crafts」
Based on the worldwide current situation surrounding the coronavirus disease (COVID-19), Kyoto Museum of Crafts and Design has decided the postponement of the Special Exhibition 「In between crafts」.
Live a life as "Shokunin (Artisan)". Hammer, attach, polish, weave and shave, those are simple actions that Shokunin have repeated millions of times for thousands of hours. This is the life that has been passed down from parents to their children, from masters to their apprentices. Kyoto, the thousand-year capital, used to be the most populous city and an influential cultural center. In Kyoto, people devoted themselves to a deep study of techniques that were nurtured based on daily living and culture in Kyoto. And that devotion contributed to foster unique aesthetics and develop the craftsmanship. Shokunin does not separate their professional work from their personal life. Making crafts is tightly woven into their daily living. And, because of that, Shokunin are able to pass their thoughts and senses in crafts onto the next generations.
This special exhibition features families that carry on their craftsmanship Into the future. Visitors will experience artisans' living through photos of six ateliers that were photographed by Machida who have interviewed various ateliers in his career.
Date
~
Time
9:00 ~ 17:00
(Last Admission at 16:30)
Admission Fee
500 yen
(free admission for under 15 years old)
Location
Kojima Shouen (Kyoto lantern making)
Shiko Co., Ltd. (Nishijin-Weaving)

Tsurumi Asakichi Urusghi-ten Co., Ltd. (Urushi purification)


Nanjo Kobo (Buddhist and Shinto ritual sound instrument of "Sahari")
Maki Shinto Ritual Articles Store (Shintoism woodwork)
Yamamoto Alloy Works Co., Ltd. (Shinto and Buddhist ritual work・Japanese Mirror)
Profile
Masahiro Machida

Machida was born in Gunma Prefecture. Machida started his career as a photographer during his college years. Machida spent most of the nights in a darkroom Inspired by words "art is produced at night", which was hanged on the wall in the photography club at the time. In the same period, Machida participated in off-road bike races in the world. Machida studied photo under Koichiro Doi. Machida moved to Kyoto after he became an independent photographer. 
Recently, Machida is greatly fascinated by a transitory and documentary factor in photograph.

Editing and Writing
Atsushi Takeuchi
Graphic Design
Kentaro Nakamura
Scheduled special exhibitions
Currently there are no scheduled special exhibitions.
Past Special Exhibitions